Hello friends! Ren here 👋
How often have you had an amazing sales discovery session with a new prospect that loves your presentation, and after two weeks …crickets!
It's a frustrating experience, but there are ways to improve your chances of success. By having a structured process and asking the right questions, you can understand the opportunity and move the sales process forward.
While it's not a guarantee that you will close every deal, It's a guarantee that you will save time and drop the wrong opportunities.
A structured process and practical questions will give you a clear understanding of the opportunity and enable you to move the sales process. Driving the sales process means that both you and your prospects understand that for every action, there is a decision to be made.
When meeting with clients, it's crucial to first understand if your prospect wants to solve a problem or achieve better results. Don't Pitch or Present your solution. Hold off!
​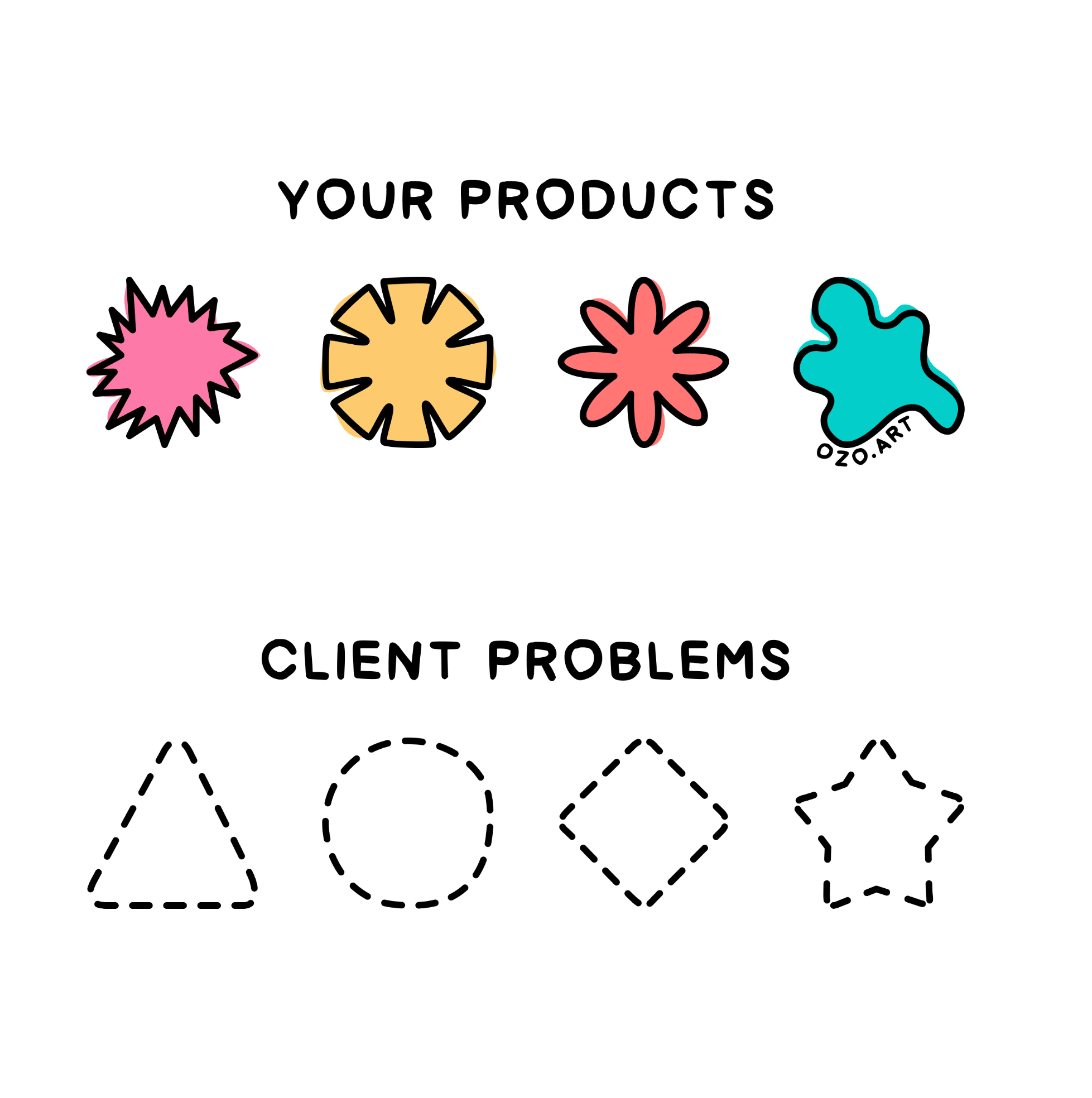 If your prospect asks you for a presentation of your solution or a demo of your products, use the following framework.
If it's a Problem or Challenge
EQ Statement: Great, I love talking about our capabilities. But before I do that....
Redirection Question: For me to focus on those relevant to your situation, what are the most important business issues you are trying to address this year? (aligned to your products or services)
​
If your Prospect wants to achieve better Results
EQ Statement:I would love to! I don't want to waste your time with irrelevant information.
Redirection Question:If you will share the top business priorities you have to achieve in the next year, it will help me provide the right information. What would you put on the list?
To help guide these conversations, here are some discovery questions for your reference.
Of course you will not grill your prospects with these questions, I trust you will use them appropriately. :)
Discovery Questions to ask if the clients have Issues or Problems:
Can you describe the problem or challenge that you are currently facing?

What impact is this problem having on your business?

How long has this problem been going on, and what have you tried to do to address it?

Who is currently responsible for managing this problem, and what has been their approach so far?

What would be the ideal solution to this problem, and what benefits would it provide for your business?

Are there any specific requirements or constraints we should consider when developing a solution?

What are the consequences of not addressing this problem?

What is the timeline for addressing this problem, and what key milestones need to be achieved?

How will you measure the solution's success, and what metrics will you use to evaluate its effectiveness?
Questions to ask if the clients wants to achieve better results:
What are your business objectives, and how can our solution help you achieve these goals?

What specific results are you hoping to achieve with our solution?

What are the key performance indicators that you will use to measure the success of the solution?

What is your timeline for achieving these results, and what are the key milestones that need to be achieved?

What resources do you have available to support the implementation of the solution?

Who are the key stakeholders involved in the decision-making process, and what are their priorities and concerns?

How can we ensure that our solution aligns with your overall business strategy?

Are there any specific requirements or constraints we should consider when developing a solution?

What obstacles or challenges could arise during the implementation process, and how can we address these proactively?
If you can't get a clear answer about their needs, resources and their decision-making process--those are alarm bells indicating that this is not a real opportunity for you. And that's fine as long as you don't add to your sales forecast.
Remember:
​
​You can't help someone who has no perceived need.
You can't help someone with insufficient resources.
You can't help somebody who cannot make a decision.
​
What do you think of this weeks newsletter?
Too much? Too long? it's okay? meeh? It's great?
Next Week!
We all know that sales is a stressful profession.
Our mindset, motivation, and emotions have a significant impact on our sales performance. The thoughts we dwell on influence how we feel, and how we feel, in turn, affects our thoughts, ultimately affecting our motivation. Recently, I have been reading and exploring the book, "Why Has Nobody Told Me This Before", to gain a better understanding of this topic.
Next week I'll be sharing some key insights and strategies on:
How to turn bad days into better days

Understanding Motivation

Making Stress Work for you
Have a great weekend!
I appreciate you reading and staying with me!
Ren 💜